Cosmetic Dentist in Owings Mills Creates Beautiful Smile Transformations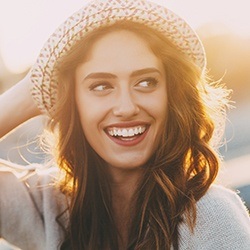 One of the first things you're likely to notice about another person when first meeting is their smile and studies have even shown that this impression can affect your perception of their intelligence, their attractiveness, their health, and even their future chances of getting job promotions. If you're worried about what your teeth may be saying about you, consider visiting Dr. Milner for a cosmetic consultation. We offer several services that can get rid of frustrating dental flaws and help you feel wonderfully confident again in your professional and personal lives. Contact our Owings Mills, MD location to get started with a cosmetic dentist today!
Metal-Free Restorations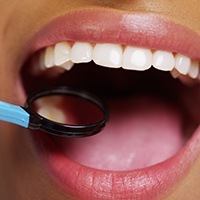 Metal-free restorations are the perfect marriage of restorative durability and cosmetic value. Our team offers lifelike crowns, inlays, onlays, and other restorations whenever possible to patients in need so that they can maintain the beautifully confident appearance they deserve. The all-ceramic materials we use are very comfortable, surprisingly strong, and 100% biocompatible. Plus, they're so similar to your natural tooth enamel that they even reflect light in the same way.
Direct Bonding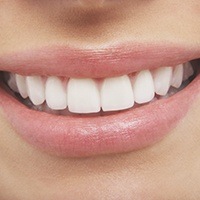 Direct bonding is an excellent service for patients who are hoping to correct relatively small flaws in their smile (chipped enamel, minor stains, small gaps between teeth, etc) in a fast timeframe. In most cases, our doctors can complete this process in a single appointment. We use tooth-colored composite resin, which comes in a variety of lifelike shades that can be matched as closely as possible to your natural enamel. Then, we'll sculpt the material over the affected tooth so that it corrects the imperfection while still appearing very natural.
Teeth Whitening
If your smile has become stained or lackluster over time, consider giving its color a beautiful boost with professional teeth whitening methods here in Owings Mills. Dolfield Dental of Owings Mills offers multiple options:
In-Practice Whitening – Looking for fast results? Our in-office whitening will surely exceed your expectations. Our doctors will combine high-strength bleaching gel and a high-powered light in order to penetrate even the toughest stains, leaving your enamel several shades lighter after just one visit.
At-Home Whitening Kits – Looking for flexibility? Our at-home kits can be used in the comfort of your own home and whenever you have time in your busy schedule. We'll provide you with customized oral trays and whitening gel. After wearing both together for a few weeks, you should see dramatically beautiful results.
Invisalign®
Invisalign is the perfect cosmetic solution for patients who want to achieve straighter teeth but just can't commit to years of wearing noticeable metal braces. Instead of age-old wires and brackets, you can look forward to using clear, custom-made aligners instead that blend in well with your natural appearance. Each aligner is designed to represent a different stage of tooth movement, and the patient simply wears each one as directed before switching to the next in the set. They're also removable, which means that you won't have to worry about frustrating dietary restrictions or overcomplicated hygiene instructions either.
Virtual Smile Designing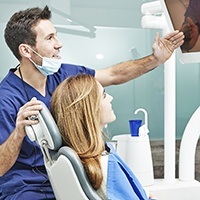 Pursuing the cosmetic transformation of your dreams can be a scary prospect in some ways. There's no way to look into the future and see if you'll be happy with the finished result, after all. Or is there? At Dolfield Dental of Owings Mills, we're happy to use digital imaging technology in order to give our patients a special sneak preview of their new and improved smile. All we need is a current photo of you, and we can adjust your appearance in order to show you the results of various cosmetic procedures.