Mini Dental Implants Restoring Smiles Quickly & Effectively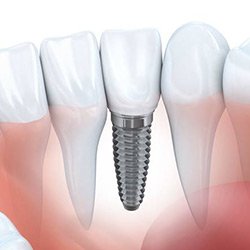 At Dolfield Dental of Owings Mills, we're dedicated to offering our patients the greatest variety of dentistry treatment options to ensure we can find the right solution to meet their unique needs. There's no such thing as one size fits all when it comes to dentistry services, and we take that literally for patients exploring their implant tooth replacement options. We offer both traditional dental implants and treatment with mini dental implants. Both types of implant posts have their advantages, and before you invest in these advanced tooth replacement solution, our team will carefully explain the entire treatment process, benefits, and disadvantages to help you make a decision you will feel completely confident with. Ready to find out more? Call to schedule your tooth replacement consultation with our Owings Mills implant dentist.
Mini Dental Implants VS Traditional Implants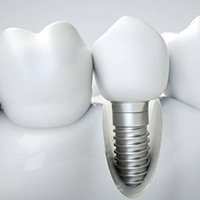 The obvious difference between the two types of implant post is the smaller size, but mini implants also make successful implantation easier. Because they are smaller, it takes less time for your smile to heal and your implant to fuse with the jaw and gum tissue. Additionally, the mini implant is a single piece. There's no need for an abutment post to attach your replacement tooth or dental prosthetic. Instead, the replacement tooth or teeth are connected directly to the mini implant post. For patients who have thinner or diminished supportive gum and bone structures, mini implants are also less likely to be visible beneath these supportive oral tissues compared with traditional dentures.
How Big are Mini Dental Implants?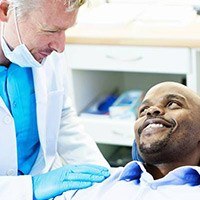 Mini implants are typically half the size of a traditional implant post. This makes the entire implant close in diameter to a toothpick.
When are mini dental implants used?
We may recommend mini implants in a number of situations, including:
To avoid the need for bone or soft tissue grafting prior to implant placement
To increase chances for successful implantation for higher risk patients
To support smaller teeth like those in the front of the smile
To anchor teeth that have narrow space for an implant post
To avoid accessing the nerve tissue when a traditional implant may be too large to avoid the nerve
To add stability to a partial or full denture, especially for patients who may not be candidates for traditional implant tooth replacement
What Happens During the Mini Dental Implants Procedure?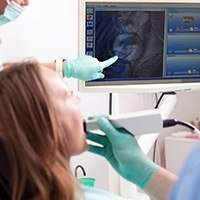 Your mini dental implant procedure will be similar to a traditional implant placement surgery. We begin by numbing the area and/or providing dental sedation to keep you completely comfortable. Then, we make a small incision into the gum and supportive alveolar bone tissue and place the mini implant. Because the implants are so much smaller, many patients make a complete recovery in just a few days, and the implant can fuse with the supportive bone and soft tissue in weeks rather than months. In fact, we can often attach your restoration on the same day the implant is placed compared to traditional dental implant restorations that may need to be attached months after the implant posts are placed.
Caring for Your Smile After Mini Dental Implant Placement
Once your Mini implants and restoration are in place, you can brush your teeth just like usual. If you've received a mini implant retained partial or full denture, you many need to adjust the way you floss. Our team members can show you how to use specialized flossing tools to clean around the denture base and remove plaque that can accumulate between the gums and denture. You will come to see us at least twice a year to ensure your replacement tooth remains whole and functional.