Emergency Dentist On Standby in Owings Mills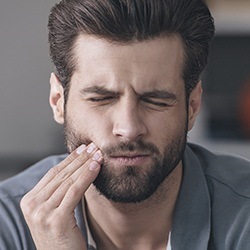 Dental emergencies can happen in an instant in the form of a sudden injury, or they may develop gradually over time until the pain you're experiencing is unbearable. Whatever the situation is, the last thing someone wants to hear when they or their loved one are in pain is that their chosen dentist can't see them for weeks. At Dolfield Dental of Owings Mills, our doctors make every effort to not only see patients on the same day as their initial call but also relieve their pain as soon as possible. Please don't hesitate to see an emergency dentist and contact us if you're in Owings Mills, MD or a surrounding area!
Of course, you may not be able to reach our office right away. Here are some helpful tips for what to do when faced with some of the most common emergency situations our team sees:
I Knocked Out My Tooth
First off: do you still have the tooth? If the answer is "yes" and you're also hoping to have it replanted in your smile, keep in mind that time is absolutely of the essence. Contact our practice right away! After doing that, follow these steps:
Rinse the crown (white portion) of the tooth under lukewarm water if it has any debris on it. Do NOT touch the root and attached tissues.
Place the tooth back into its original socket and hold it in place with your finger or tongue.
If you can't do that, some alternatives are 1) holding the tooth in the pocket of your cheek within the mouth, 2) placing the tooth in a container with own saliva, or 3) placing the tooth in a container of milk. Keeping the tooth moist is key here. Remember to bring it with you to our office.
I Broke My Tooth
Gather up any large pieces of the tooth that have become dislodged and plan to bring them with you to our practice. Prepare yourself for some facial swelling, which is likely to happen in this situation. Using a cold compress can reduce this on your way to the office.
I Have a Bad Toothache
It's always a good idea to first rule out the possibility that your discomfort is being caused by something stuck in the teeth. Try brushing, flossing, and rinsing your mouth first, focusing particularly on the source of the discomfort. If this doesn't help, reach out to Dr. Milner for further assistance.