Dentures – Owings Mills, MD
Reconstruct Your Smile After Tooth Loss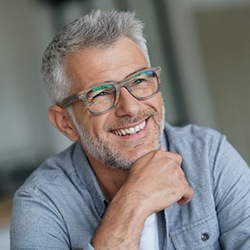 At Dolfield Dental, Dr. Jacob Milner understands how inconvenient and difficult it can be to just go about daily life when you're missing most or all of your teeth. Thankfully, traditional dentures have come a long way since the uncomfortable and unnatural-looking ones your grandparents may have worn. Modern dentures in Owings Mills are much more durable and lifelike than ever before. If you're ready to reconstruct your smile after tooth loss, contact us today to schedule your dentures consultation.
Types of Dentures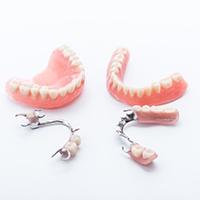 Depending on the state of your oral health and your specific smile needs, Dr. Milner may recommend one of the following types of dentures:
Partial Dentures
Even missing just a few teeth here and there can make it embarrassing to smile in front of others. Fortunately, a partial denture can rebuild your smile in such a way that onlookers shouldn't be able to differentiate it from your natural teeth.
Consisting of a gum-colored acrylic base and a metal framework, a partial denture fills the gaps in your grin with prosthetic teeth that are custom-made to mimic the size, shape, and color of the rest of your smile. Clips or clasps hold the partial in place behind your remaining teeth.
Full Dentures
Also made of a pink acrylic base, a full denture replaces an entire row of lost teeth and sits comfortably on your gums. Natural suction helps it stay in place, but if you need added security, purchasing some denture adhesive could help.
Implant-Retained Dentures
If you want a denture that will last longer and be more secure as well as permanent instead of removable, we can anchor a denture onto dental implants. Just four to six implant posts can be placed throughout the jaw to provide enough support for a full or partial denture. Rather than removing them to clean them, implant-retained dentures can be maintained just like natural teeth with daily brushing and flossing.
Benefits of Dentures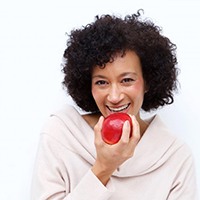 Here are just a few of the reasons to choose dentures for tooth replacement:
Renewed ability to bite, chew, speak, and smile with ease
Boosted confidence
Custom-made solution that looks natural
Improved oral health
Improved overall health from being able to chew healthy crunchy foods like vegetables
A long-lasting solution to full or partial tooth loss
Understanding the Cost of Dentures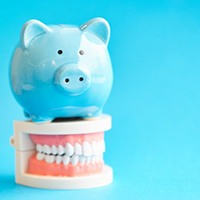 As with any kind of dental work, the cost can vary based on a number of factors. When it comes to the dentures, we must consider the following:
The exact type of dentures needed
The number of teeth you are missing
The materials used to create your denture
Any pre-denture work you may need, such as tooth extractions or gum disease therapy
To make paying for your treatment easier, our practice is in-network with several major dental insurance carriers, including Aetna, BlueCross BlueShield, MetLife, and Delta Dental. We also accept monthly payment plans from reputable third-party companies like CareCredit. Lastly, we have an in-office Membership Plan. For a low annual fee, you can receive FREE preventive care as well as a 15% discount on most other treatments, including dentures.