May 29, 2018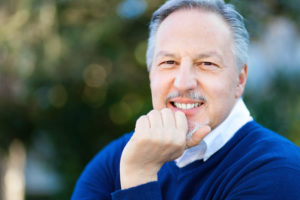 Are you looking into your tooth replacement options? Dental implants offer excellent stability for prosthetic teeth — but in some cases, there just isn't enough space to place a traditional post. If this is the case for your smile, all hope is not lost. You can still enjoy all of the wonderful benefits of implant dentistry thanks to mini dental implants. Just as the name implies, they are like traditional implants, but… smaller. Keep reading to learn more about how mini dental implants work, when you might need them, and about the many benefits they can offer patients after tooth loss.
How Do Mini Dental Implants Work?
Mini dental implants are tiny titanium posts that can be inserted into the jawbone where a missing tooth's supportive root structure once was. They work like traditional dental implants in that they gradually fuse together with the bone to provide stability for the prosthetic crown, bridge, or denture that is affixed on top. The primary difference is that mini dental implants are much smaller than conventional posts, meaning they can fit into tight spaces and be placed when traditional dental implants otherwise could not.
Benefits of Mini Dental Implants
Mini dental implants offer a wonderful option for patients who are not eligible for conventional dental implants. Some of the most considerable advantages for these cases include the following:
Mini dental implants can be placed without bone graft procedures that may be required before conventional implants.

Mini dental implants are often cheaper compared to conventional implants.

The placement procedure for mini dental implants is minimally-invasive.

Recovery is faster with mini dental implants.

A loose existing denture or other prosthetic can be secured with mini dental implants.
Are You a Candidate for Mini Dental Implants?
All adult patients who are missing teeth but wish to avoid invasive surgery or who have been told that they are not eligible for dental implants may want to give mini dental implants a second glance. This replacement method has helped many people enjoy the stability and security after tooth loss only possible with dental implants.
Tooth loss is traumatic, but mini dental implants can help you regain your smile confidence after it occurs. The only way to know for sure whether or not this is an appropriate option for your case is to schedule an appointment with your implant dentist. If the answer is yes, you can look forward to enjoying a sturdy, long-lasting tooth replacement and the wealth of benefits that come with it.
Meet the Dentists
Dr. Jacob Milner and Dr. R. Mark Horner are general dentists offering superior comprehensive dental care from the comfort of their state-of-the-art practice in Owings Mills. To learn more about mini dental implants or to book an appointment with the dentist your neighbors trust, go ahead and contact the office at 410-902-4110.
No Comments »
No comments yet.
RSS feed for comments on this post. TrackBack URL
Leave a comment