June 12, 2018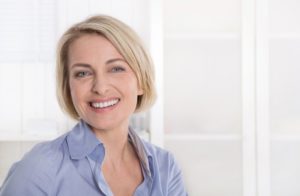 Dental implants enable even individuals who have experienced extensive tooth loss to regain their smile and their confidence. If you are thinking about undergoing this treatment, you have a lot to look forward to! When you speak to your dentist about your desire to replace your missing teeth, it's possible that you'll discuss the following two types of implants.
Endosteal (in the Bone) Implants
Most of what you hear and see about dental implants focuses on the endosteal variety. These are small titanium posts that your oral surgeon inserts into your jawbone. They replace natural tooth roots and form a special bond with your body. After you heal from the placement surgery, you receive new teeth to go on top of the implants.
These implants offer a long list of benefits, including:
They stimulate blood flow to the jaw, helping to prevent bone loss.
You may need as few as four implants to replace an entire arch of teeth.
Thanks to advances in modern dentistry, more people are candidates for endosteal implants than ever before.
Subperiosteal (on the Bone) Implants
Just like endosteal implants, subperiosteal implants provide a sturdy base of support for your restored smile. However, the is a big difference between the two varieties; instead of being placed inside the bone, subperiosteal implants are placed on the bone. Your surgeon makes an incision in your gums and places a custom lightweight metal framework on top of top of the jawbone. Your gums heal over the framework, leaving just a few exposed posts, which serve as the attachment points for your new teeth.
Which Is Right for You?
Most dentists recommend endosteal implants rather than subperiosteal implants because of the bond they form with the jaw. Their bone-saving power helps to preserve your face shape and offers the greatest long-term benefits for your oral health. Unfortunately, endosteal implants aren't right for everyone; they're best for folks who have sufficient bone density and bone height in their jaw. However, even if your bone is not quite in ideal condition for the surgery, a bone graft may be able to change that.
Subperiosteal implants are a great option for folks who may not be able to receive endosteal implants. They're also a good choice for some individuals who are unable to wear traditional dentures.
The best way to find out which type of implants are right for you is to schedule a consultation with an experienced implant dentist. After an in-depth examination, they will talk to you about the potential risks and rewards of any tooth replacement option you're thinking about. Then, together, you can make the choice that is best for your oral health. Before you know it, you may be the proud owner of a gorgeous set of implant-supported teeth!
About the Dentist
Dr. Jacob Milner is an implant dentist who truly enjoys forming relationships with his patients and helping them to achieve the best oral health possible. If you have questions about dental implants or other restorative treatment, he would be happy to talk to you. You can contact our office at 410-902-4110.
No Comments »
No comments yet.
RSS feed for comments on this post. TrackBack URL
Leave a comment