July 4, 2018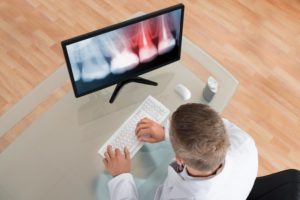 Dental implants are widely regarded as the most reliable tooth replacement solution. Thanks to their ability to safely integrate with existing bone and gum tissue, they offer a secure and long-lasting option for patients who don't want to settle for inferior replacement methods.
With that being said, it is possible for dental implants to fail, even if it is rare. In the future, you may need to replace or restore the implant received for a number of reasons. Here are a few that have occurred in previous cases, as well as how your dentist fixes failures if they occur.
Failures That Can Happen Early
Assuming that your dentist is qualified to place dental implants and has proven experiencing doing so, errors in initial placement should not be likely. However, it's not unheard of for a dentist to only care about getting paid for placing dental implants rather than putting a majority of their focus on the patient where it belongs.
For example, when the socket is being prepared prior to placement, the bone could be overheated. If the dentist uses too much or not enough force when placing the implant into the bone, it can cause it to fail early.
If the implant or the area surrounding the implant becomes contaminated, it can interfere with the osseointegration process, which is the process that allows the implant to naturally adhere inside the mouth.
While it's unlikely, there could also be insufficient bone to receive an implant. This should be determined by the dentist ahead of time and met with additional bone grafting treatments to increase bone volume.
Failures That Could Happen Later
Implants are meant to be incredibly secure, even more so than natural teeth because implants don't have a periodontal ligament. While natural teeth can technically move if you apply gentle pressure to them, implants shouldn't feel loose, wobbly, or fall out whatsoever.
If an implant fails long after treatment is complete, it's usually because it was met with excessive force. While a dental injury can cause this, it's more common from changes in occlusion, or the way a person bites. If patients have issues with teeth clenching or grinding, they'll need to purchase sufficient protection to prevent their implant from breaking down.
How Your Dentist Fixes Implant Failures
The first step your dentist takes is creating an accurate diagnosis of why the implant failed. He'll examine all the parts of the implant, including the restoration, the abutment, thread devices, the abutment material, and determine if they need replacement.
Luckily, failing implants can be treated quickly, but keep in mind that if your dentist needs to protect your oral health, he'll remove the implant entirely in order to do so. Not seeking repairs for a failing implant can also put nearby teeth at risk, so it's essential that patients seek treatment if they believe their implant is failing.
Don't let implant failure get in your way of retaining a fully functional smile. If you fear that your implant is failing, schedule an appointment with your implant dentist today!
About the Author
Dr. Jacob Milner offers multiple solutions to replacing teeth with implant-retained devices. Whether you need traditional implants, mini-dental implants, implant-retained dentures, or Teeth-in-a-Day, your dentist is more than prepared to make treatment easy and straightforward. To learn more about his practice, contact him through his website.
No Comments »
No comments yet.
RSS feed for comments on this post.
Leave a comment