August 26, 2018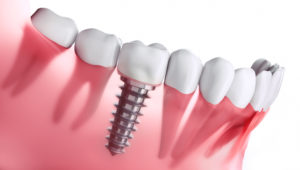 There's no need to feel embarrassed about oral health issues. The time will come when all of us must deal with challenges like damaged, decayed, or missing teeth. When this happens, an implant dentist may be just the type of professional you need.
Four Myths About Dental Implants
We live in an information-rich age in which knowledge is just a few clicks away. Sometimes, though, what seems like sound advice is little more than myth. To see what we mean, consider these five common misconceptions about dental implants:
"Dental implants look different than natural teeth." In reality, implants are virtually indistinguishable from natural teeth. Trained dentists can match the appliance's tones and contours with astounding precision.
"Dental implants are painful." Actually, most patients report that the discomfort is comparable to that of a simple extraction, lasts only for a limited time, and is more than outweighed by the benefits of the procedure. Usually, over-the-counter analgesics are sufficient for dealing with this issue.
"Dental implants are expensive." What's truly expensive is foregoing dental care and suffering needless pain as a result. Implants are covered by many insurance plans and provide a true long-term solution to missing teeth and other oral health problems. Ask the clinic staff about options such as private financing, which can ease the associated costs.
"One dentist is as good as another when it comes to implants." Dentistry, like all branches of medicine, is growing more specialized all the time. Emplacing implants is a highly technical skill which requires a professional with the necessary training and office equipment.
"Implants are nothing but overpriced veneers." Veneers are a great way to correct cosmetic issues such as stained or discolored teeth. However, they cannot provide the therapeutic benefits that come from implant emplacement.
What to Expect from an Implant Dentist
The process begins with a thorough dental exam to diagnose the exact nature of the problem. Should your dentist feel that implant therapy is the correct way to proceed, then he or she will either perform the procedure or refer you to a qualified specialist.
In most cases, receiving an implant requires 2-3 appointments. The number of sessions will depend on several factors, including the condition of your existing teeth and underlying jaw. You will receive pain blockers and anesthetic during each visit to ensure your comfort and safety.
After your recovery period is complete, your implant will function just like your natural teeth. Getting the most benefit from the treatment requires that you brush and floss regularly, limit consumption of sweets, and see your  dentist for periodic checkups and cleanings.
Over time, the implant will essentially become a part of your body. It will allow you to enjoy a healthy diet and engage in all the activities you love. This makes implants a favorable alternative to options such as dentures. So don't let myths and misinformation prevent you from enjoying better oral health. Whichever treatment option your pursue, you'll come out on the other side with reasons to smile.
About the Author
Dr. Mark Horner is a graduate of the University of Maryland Dental School and a member of the American Dental Association. He's also a board member of the Baltimore County Dental Association. You can reach his office online or by calling (410) 902-4110.
No Comments »
No comments yet.
RSS feed for comments on this post. TrackBack URL
Leave a comment