October 3, 2018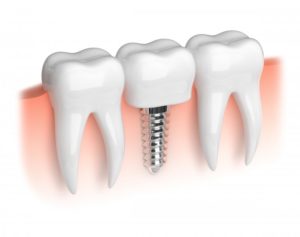 Are you missing teeth? Many Americans, at least 120 million, are missing at least one tooth. There are a handful of replacement options, but dental implants have become regarded as one of the best. They offer the most stable and supportive replacement, while looking and feeling like your natural teeth. Read on to learn why dental implants are such a popular tooth replacement, and what benefits they will bring to your smile from an expert implant dentist.
What Are Dental Implants?
Before getting into why they're such a great replacement option, you should probably know what they are. Dental implants are artificial tooth roots that are placed in your jaw to serve as a stable support for your restoration (false tooth). Implants can be used to replace one tooth, multiple teeth, or even a whole row of your smile.
Once the implant is in place (a small post made from titanium) your dentist can create restorations that mimic the look and feel of your natural teeth.
What Are the Advantages of Dental Implants
There are many benefits patients see from receiving dental implants. See below some of the most common advantages patients enjoy:
Improved Appearance
Dental implants look and feel just like your own set of pearly whites. Because they fuse to your jawbone, your false teeth will appear to emerge from your gums, just like your natural teeth. Other replacements won't have this same effect.
Improved Speech
Other replacements like dentures can slip and move around when you talk. Dental implants allow you to speak and laugh with the confidence of knowing that your teeth aren't going anywhere.
Easier Eating
Some replacement options come with the caveat of avoiding hard or sticky foods. Well, what if your favorite snack is caramel or popcorn? The good thing is that dental implants function just like your natural teeth, so you can eat all of your favorite foods without even thinking about it.
Better Self-Esteem
Dental implants can complete your smile, no matter how many teeth you need replaced. A complete and healthy smile will lead to better self-esteem. Smiling more gives off the appearance of youthfulness, confidence, and success.
Improved Oral Health
Last but certainly not least, dental implants don't require modification of your surrounding natural teeth. This helps with your long-term oral health because you'll have more of your natural teeth intact. Individual implants also offer easier access to brush and floss your teeth, which improves oral hygiene.
After reading about dental implants and their benefits, does it sound like they're the right replacement option for you? Contact your local dentist to get started on a complete and radiant smile.
About the Practice
Dr. Jacob Milner and Dr. R. Mark Horner are dentists who enjoy providing quality care to their patients in Owings Mills. They love being able to help patients improve their confidence and self-esteem by making their smiles whole again with dental implants. They currently practice at Dolfield Dental, and they can be contacted through their website or by phone at (410) 902-4110 for any questions.
No Comments »
No comments yet.
RSS feed for comments on this post. TrackBack URL
Leave a comment