January 15, 2019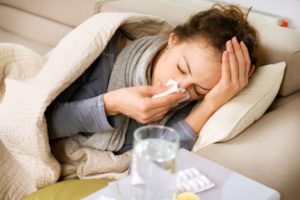 Old Man Winter is officially upon us. Time to bundle up in front of a crackling fire and relax with a warm beverage. While you're at it, check out these five flu season tips from a local dentist. Each of them can help you to overcome sneezes and sniffles without causing cavities.
Tip Number One: Keep Your Mouth Hydrated
Decongestants provide untold relief to millions of people each winter. But these helpful products have a not-so-helpful side effect: dry mouth, which can promote tooth decay. A good way to counter this problem is to keep a supply of sugar-free mints or lozenges on hand. You can also try sipping on water or hot soup throughout the day.
Tip Number Two: Stick with Sugar-Free Formulas
Most of us are familiar with the comforting taste of liquid cold and flu preparations. These products contain powerful yet safe ingredients that can ease the misery of a nasty head cold or flu. But sometimes they have added sugar as well.
Fortunately, sugar-free versions of these medicines are available at most pharmacies and mass retailers. They offer all the benefits of the sugary versions without the risks to your dental health.
Tip Number Three: Use Orange Juice with Care
There's nothing like a cold, refreshing glass of OJ to bring a little bit of summer sunshine into the darkest winter day. But orange juice is high in sugar. How do you enjoy its health-promoting benefits without risking your teeth and gums? Here are three tips:
Look for brands that have no added sweeteners. You can find this information on the nutritional label. Orange juice is sweet enough in its natural state without needing an artificial boost.
Drink your orange juice all in one sitting. That way you can brush your teeth immediately afterwards.
Follow a glass of orange juice with a glass of water. This will help to rinse cavity-causing sugar away from your teeth and gums.
Tip Number Four: Choose Your Tea with Care
Ah, the comforting taste of hot tea! It's soothing to both the throat and sinuses. But some teas are highly acidic, which can harm the layer of protective enamel on your teeth. Traditional black tea is a perfect example. Look for brands that are low in acid instead. Some studies indicate that adding a small amount of cream and non-sugar sweetener can reduce the acidic effects of tea.
Tip Number Five: Remember to Brush and Floss
When your whole body is feeling achy, you may not feel like doing much of anything. But decay-causing bacteria are unconcerned about your feelings. Their only mission is to give you cavities. Keep up your battle against them by brushing 2-3 times a day and flossing at least once per day.
You should also keep any dental appointments that you may have scheduled. Your dentist may be able to suggest additional ways to treat your cold and flu symptoms.
Being sick is never fun. But there are things all of us can do to ease the misery of winter's wrath while waiting for spring to arrive. In a few months, when the sun is shining and the flowers are in bloom, you'll look back on the steps you take today with plenty of reason to smile.
About the Author
Dr. Jacob Milner provides top-quality dental care to patients of all ages here at our Owings Mills office. His extensive training allows him to treat a wide array of oral health conditions. You can reach his office online or by calling (410) 363-1626.
No Comments »
No comments yet.
RSS feed for comments on this post. TrackBack URL
Leave a comment