February 2, 2019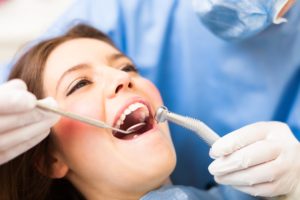 Recent statistics suggest that one person dies from oral cancer every hour. In light of this difficult reality, it's more important than ever to understand how you can partner with your local dentist to both prevent and detect the development of oral cancer. At our office, every regular checkup includes a thorough check for any cancer warning signs. Read on to discover why exactly early detection is so critical for mitigating the damage wrought by cancers of the mouth, and for insights on what exactly the oral cancer screening process entails. 
Early Detection Is The Key
In all matters of personal health and wellbeing, whether they be mental or physical, vigilance is of the utmost importance. It's imperative that we listen for and observe the warning signs produced by our body that may indicate something is wrong. In the case of oral cancer, there are a number of warning signs that your dentist can help you identify. While brushing and flossing, if you've ever taken notice of abnormal crusting, slow to heal sores, or red and white spots – these may all be potential indicators of a deeper issue.
For cancers of the mouth, the reason why early detection is of paramount importance is really a simple one – when diagnosed within stages I or II, patient survival rates are greatly increased when compared to cases that were diagnosed within stages III or IV. When pinpointed early, doctors are able to more effectively manage and treat the cancer and prevent its further spread, whether through surgery, radiation therapy, or a combination of the two.
What's Involved In An Oral Cancer Screening?
If you've noticed any of the previously mentioned oral cancer warning signs, it may be a good idea to schedule a screening with your dentist. As for what to expect from the screening, the process itself is quick and painless. The dentist will conduct a thorough scan of your mouth, searching for any signs of a problem. Some dentists utilize a special dye to identify any abnormal cells. Depending on the results, a follow-up visit for further examination or a biopsy may be necessary.
Don't Delay – Schedule A Screening
If it's been a while since your last dental checkup, don't hesitate to reach out for an appointment. Detecting potentially cancerous lesions is too serious a matter to delay. Equally important is the ongoing prevention of oral cancer. If you aren't currently partnered with an oral healthcare professional to establish a preventive care regimen, this should be a number one priority. Cutting out bad habits like smoking and excessive alcohol consumption can be tremendously beneficial to your oral wellbeing, but regular visits to a professional are always recommended.
About the Author
Dr. Jacob Milner offers a wide array of dental services, ranging from cosmetic treatments to preventive care. His extensive educational background has uniquely equipped him to care for patient's smiles in a way that addresses both their aesthetic concerns and overall health needs. If you're in need of a caring dentist with a comprehensive approach, or interested in an oral cancer screening, don't hesitate to contact Dr. Milner through his website today.
No Comments »
No comments yet.
RSS feed for comments on this post.
Leave a comment