February 10, 2019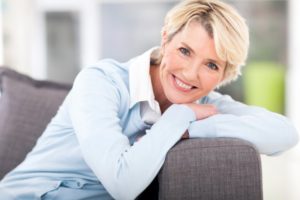 If you're one of the millions of Americans that are missing teeth, you may have considered various options for replacement. Dental implants are one of the most popular options, but if you have a weaker jawbone or need a narrow space replaced, your dentist in the past may have turned you away. Thankfully, mini dental implants offer an alternative. Keep reading to learn more about mini dental implants and how you can benefit from them.
What Are Mini Dental Implants?
Mini dental implants offer patients with weaker or smaller jawbones a way to receive dental implants. They also can be used in situations where a smaller implant is needed to fit a narrow location. Dental implants are tiny titanium posts that are placed in your jaw to act as artificial tooth roots. Titanium, a biocompatible material, allows the implants to fuse to your jawbone to create sturdy supports for your restorations.
Mini dental implants are about half the size of traditional ones, with a much narrower diameter. This allows your dentist to be able to replace small teeth, front teeth, pre-molars, teeth in narrow areas, and weaker parts of your jaw.
What Are the Benefits of Mini Dental Implants?
While dental implants offer many benefits, here are some of the unique reasons why your dentist uses mini dental implants:
The diameter of mini implants is about the size of a toothpick, allowing for placement in smaller or weaker areas.
On average, mini dental implants cost less than their traditional counterpart.
In the extremely rare event of implant failure, mini dental implants don't require bone grafting.
Mini implants don't contain screws like traditional ones.
Because of their size, mini dental implants are less invasive, have shorter procedure times, and even heal faster.
Am I a Candidate for Mini Dental Implants?
The best way to know if mini dental implants are right for you is to visit your dentist in Owings Mills. They will be able to properly examine your mouth to recommend the best treatment option for you. Mini dental implants can be used to replace small teeth, narrow areas, and even support dentures.
If you have a loose-fitting denture that slips and slides around, ask your dentist about implant-supported dentures. This option allows you to have the beautiful appearance of a full set of teeth with restored biting power and renewed confidence.
Does it sound like you could benefit from mini dental implants? Contact your dentist to schedule an appointment to discuss this replacement option for a beautifully complete smile.
About the Practice
Dr. Jacob Milner and Dr. R. Mark Horner are a team of dentists who believe in quality restorations that also boost your confidence. They have a state-of-the-art dental office, where you can experience comfortable dental care. They currently practice at Dolfield Dental, and they can be contacted through their website or by phone at (410) 902-4110.
No Comments »
No comments yet.
RSS feed for comments on this post. TrackBack URL
Leave a comment