March 14, 2019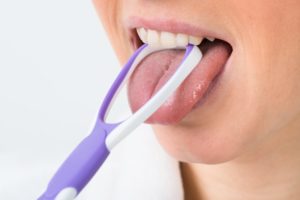 We all know the importance of keeping our teeth and gums clean and healthy, but what about our tongue? A good oral hygiene routine should include more than just brushing and flossing your teeth, right? But how do you take care of this part of your mouth? Maybe it's time to let your dentist explain the correct way to clean your tongue and why it's so important in the first place.
Used and Abused: Why It's Important to Take Care of Your Tongue
You use your tongue every day. Whether it's to eat, swallow, talk, or even whistle, your tongue plays an integral role in how you use your mouth. Your tongue consists of different muscles, each performing a unique task. From forming parts of speech so we speak clearly to moving and digesting food properly, it's important to keep your tongue in good condition, which means cleaning it thoroughly and correctly.
When bacteria starts to build on your tongue, it can cause bad breath or halitosis. If the bacteria is not removed, it can be transferred onto your teeth and gums, leading to plaque and tartar build up.
Keeping it Clean
During your dental appointment, talk to your dentist about the best way to clean your tongue. He will probably suggest one of two ways:
Brushing
All it takes is a moistened toothbrush to gently scrub your tongue. Using a back to front motion, you will be able to brush away any bacteria living on the surface. While brushing your teeth, you can use the excess toothpaste to brush your tongue, cheeks, and roof of your mouth. Your mouth will feel refreshed once you've finished rinsing.
Scraping
If brushing doesn't sound effective enough, there's always the alternative: a tongue scraper. For some, this might sound a bit scary, but there's nothing to fear. This device can be found at most drug stores and are made to gently glide along the surface of your tongue. As it moves along, it removes a layer of mucus, as well as any bacteria.
Simply stick out your tongue, and with minimal pressure, move the scraper from back to front. You'll need to rinse and repeat. Make sure when you're done, rinse and dry the scraper.
If you think cleaning your tongue should only be a weekly occurrence, you're wrong. Making it part of your daily routine is necessary for maintaining good oral health. If you experience any pain or discomfort while cleaning your tongue, contact your dentist.
About the Author
Dr. Jacob Milner, DDS, interned at Kernan Hospital at the University of Maryland with a focus on pediatric dentistry. However, after obtaining additional experience, he discovered he enjoyed working with patients of all ages. At Dolfield Dental, he and his team of experts offer a variety of prevention-based services designed to catch damage and decay in the early stages, as well as help to avoid these problems in the first place. For questions about our services, visit our website or call (410) 902-4110.
No Comments »
No comments yet.
RSS feed for comments on this post.
Leave a comment