March 28, 2019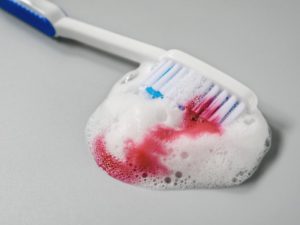 When it comes to your oral health, you want to make sure you're taking proper care of your teeth and gums, right? What if you notice that your gums are bleeding when you brush and floss your teeth? That's obviously not a good sign. Bleeding gums can be the result of gum disease or even something else. Only your dentist will be able to tell and determine how to help you get your oral health back on track.
What is Gum Disease?
Gum disease develops as a result of bacteria and plaque building up around your gum line. If your gums are red and puffy, the gum disease may still be in its early stages (gingivitis). With good oral habits practiced at home, and with regular visits to the dentist office, this can be remedied. However, without proper care, it can turn into periodontitis. This causes your gums to bleed or worse, your teeth to loosen and eventually fall out.
Why Are My Gums Bleeding?
There are several reasons why your gums may bleed, none of which you should ignore. Bleeding gums are not normal, so it's best to have your dentist look to make sure nothing serious is going on. Here are a few reasons why you may see blood building around your gum line:
You're brushing too hard. It's best to use a soft-bristled toothbrush when caring for your teeth, but even the softest bristles can damage your gums if used too harshly.
You've just started a flossing routine. Maybe you're consistent with your brushing but not your flossing. If you've decided it's a good idea to start flossing between your teeth (which it is), your gums may bleed.
You're pregnant. Hormonal changes in pregnant women make them more susceptible to gingivitis. If your gums are inflamed because of your pregnancy, make sure you are maintaining good oral habits.
Health-related problem. If you have diabetes, your gums can bleed and become swollen. Due to your body's inability to fight off bacteria and infection, you are more prone to gum disease.
Periodontitis. If none of the above seem to apply, it could be a possible lack of nutrients or worsening gum disease. If your dentist believes you have periodontitis, you could be looking at extensive dental work to ensure your teeth do not fall out.
How Can I Get My Oral Health Back on Track?
No matter the reason for your bleeding gums, you'll want to take the right steps to make sure your gums are healthy. If you need some help determining how to get your oral health back on track, try the following:
Brush and floss daily. This means brushing twice a day for two minutes and flossing at least once a day to remove any food particles.
Stop smoking. Bad habits like smoking can not only wreak havoc on your overall health, but the nicotine in tobacco can stain your teeth. Don't you want your teeth to stay pearly white?
Eat a healthy diet. Limiting the amount of sugar and carbs in your diet can keep your gums from bleeding. These items make it easy for bacteria to grow, leading to gum disease. Foods that are low in sugar and high in other nutrients (vegetables) will ensure you keep your mouth (and body) healthy.
When you notice your gums bleeding for the first time, don't wait. Call your dentist and make an appointment. It's best to have a professional evaluate the situation, so you can take action against any potential problems. As always, make your oral health a priority. All that brushing and flossing will pay off when you have a healthy, beautiful smile.
About the Author
Dr. Jacob Milner, DDS, discovered his true passion for dentistry while working as an associate dentist in Hanover. In addition, he found that working with patients of all ages brought him much happiness and joy. At Dolfield Dental, he and his team of experts offer a variety of prevention-based services designed to catch damage and decay in the early stages, as well as help to avoid these problems in the first place. For questions about our services, visit our website or call (410) 902-4110.
No Comments »
No comments yet.
RSS feed for comments on this post. TrackBack URL
Leave a comment