April 3, 2019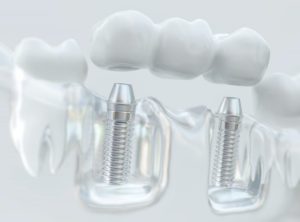 When searching for a tooth replacement options to care for your missing teeth, there's no better solution than dental implants. Not only do they provide stability, a natural look and feel, and last for decades, but they are a permanent solution. Unfortunately, nothing is 100% perfect, and there are times when your dental implants may need to be restored. In fact, let us share 4 reasons restoration may be necessary.
Errors in Technique
If your dental implants fail in the early stages (just months after placement), it may be due to an error on the part of the dentist. If the bone becomes overheated while prepping the site for the implant, it can cause it to fail. Also, if too much force or not enough force is used to insert the implant into the bone, it can result in unsuccessful treatment.
Contamination
If the implant or the site in which it's to be placed becomes contaminated (smoking), it can interfere with the osseointegration process, which means the implant will not successfully fuse to the jawbone, making it impossible for successful placement. Also, osseointegration may not occur if temporaries are not placed properly.
Poor Bone Quality
Before having dental implants placed, you must have enough bone strength to hold up the implant. If you don't, your implant dentist may suggest a bone graft; however, if your bone density isn't thoroughly examined and the implants are placed, it could result in implant failure.
Wear and Tear
While your implants are designed to withstand normal wear and tear, they can become cracked or broken if you are prone to bruxism (teeth grinding and/or clenching). You can talk to your dentist about wearing a nightguard while you sleep to protect your implants and natural teeth from the effects of bruxism.
How Can Dental Implants Be Fixed?
Depending on the situation and cause of the damage or implant failure, the first thing you should do is call your dentist. It is important for your implant dentist to determine a proper diagnosis as to why your implant failed and determine a treatment plan to fix it.
Thankfully, no matter the reason for implant failure, it can typically be treated quickly. Of course, he'll need to completely remove the implant before determining the best course of action in replacing it. Without treatment for a failed implant, you could be putting your nearby teeth and bone at risk.
You should know that more than 95% of dental implant procedures are successful. If they're properly cared for, that number increases to 98%. Should you believe that your implant is damaged or failing, contact your implant dentist as soon as possible. Quicker responses will enable him to take the appropriate actions before the situation worsens.
About the Author
Dr. Jacob Milner, DDS, discovered his true passion for dentistry while working as an associate dentist in Hanover. In addition, he found that working with patients of all ages brought him much happiness and joy. At Dolfield Dental, dental implants are one of the top recommended services because of their countless benefits. If you are looking for a seamless smile, visit our website or call (410) 902-4110 to learn more.
No Comments »
No comments yet.
RSS feed for comments on this post. TrackBack URL
Leave a comment