April 15, 2019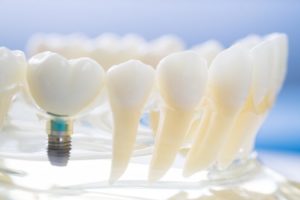 Faced with the reality of tooth loss, you've been researching different restorative dental options. It can be overwhelming trying to make an important dental decision that can make or break your smile, but with your dentist's help, you've narrowed it down to dental implants. Implants are the longest-lasting, healthiest option, and you're looking forward to having your grin back. But there's one more decision that your dentist will help you make—which type of dental implant will be best for you? Read on to learn the difference between the two types of dental implants and which option suits your needs.
Endosteal (in the Bone) Implants
Endosteal dental implants are surgically placed into your jawbone. They are typically used to help support bridges and removable dentures and are more common than subperiosteal implants. Because the posts are surgically placed into your jawbone, they act like your natural teeth's roots. After, your bridges or dentures will be placed on top of the implants to craft your new smile.
Most people choose endosteal implants because of the many benefits they offer:
Prevent bone loss by stimulating blood flow in the jaw
Durable and long-lasting
Gives you a natural-looking repaired smile
Subperiosteal (on the bone) Implants
Similar to endosteal implants, subperiosteal implants provide a sturdy foundation for your new teeth. The main difference between the two is that subperiosteal implants are placed on your bone instead of inside of it. Your oral surgeon will lay a light metal framework over the top of your jawbone that allows them to attach your new teeth.
Which is Best for You?
Endosteal implants are more commonly chosen because of how they bond with your jaw to help promote bone growth. But not everybody is a good candidate for these implants because they require you to have sufficient jaw density in order to support the posts that will hold your new teeth. In addition to this, it's important that your gums are able to heal properly after the surgery, so it's vital that you have maintained good oral health.
If your jaw isn't strong enough to support endosteal implants, your dentist may recommend subperiosteal ones. They're lightweight and typically recommended for patients who have lost most of their back teeth.
Your dentist will give you an exam and let you know which type is best for you based on your jawbone and overall health. No matter which one they choose, you can trust that their professional opinion will be the best option for your oral health. Making an investment in dental implants is a huge deal, so you want to get the facts straight in order to get the long-lasting smile you've been dreaming of.
About the Author
Dr. Mark Horner has been serving patients with the highest quality of dental care for over 3 decades. He understands that when you're making an investment in your smile by getting dental implants, you want to feel confident that your professional will give you the individualized treatment you deserve. For any questions or to schedule a consultation for your dental implants, visit Dolfield Dental's website or contact 410-902-4110.
No Comments »
No comments yet.
RSS feed for comments on this post.
Leave a comment