June 2, 2019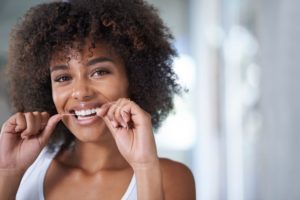 We all know that brushing and flossing can help prevent cavities. We've had that drilled into our heads for as long as we can remember. But did you know that there are other habits that can help prevent tooth problems? These can include what you eat and drink. A dentist is here to talk about 9 oral health habits that you can get into that can decrease your risk of developing problems.
1. Eat Fresh Produce
Not only do fresh fruits and veggies provide lots of nutrients, they're also good for your teeth. Processed foods contain more sugar that can wear down your enamel, making you more likely to get cavities. Stick with natural foods for better oral health.
2. Limit Acidic and Sugary Foods
Acidic foods and drinks can erode your enamel. Sugary items make your mouth a breeding ground for bacteria, which increases your risk of painful cavities and even gum disease.
3. Chew Sugar-Free Gum After Meals
If you can't brush your teeth after a meal, chewing sugar-free gum is the next best thing. It can help stimulate the flow of saliva. Saliva washes away bits of excess food and bacteria in the mouth. Make sure to chew gum after you eat to prevent those bits of food from getting stuck, and those bacteria from hardening and forming plaque.
4. Drink Plenty of Water
Water also helps wash away excess food particles that attract bacteria. It never hurts to swish water around in your mouth after you eat. It can prevent tooth decay. If you can't brush your teeth after eating, drinking water is certainly better than doing nothing.
5. Limit Alcoholic Drinks
Alcohol can decrease the amount of saliva in your mouth. If you're going to drink, be sure to stay hydrated. A good rule of thumb is to drink one glass of water for every alcoholic drink you consume.
6. Brush Your Tongue
Plaque can accumulate on your tongue as well as your teeth. This can lead to bad breath as well as other problems like tooth decay. Get in the habit of brushing your tongue whenever you brush your teeth.
7. Use a Fluoride Toothpaste
Fluoride is a natural defense against tooth decay because it provides a protective barrier over your teeth. The next time you buy toothpaste, make sure it has fluoride in it.
8. Use Mouthwash
Mouthwash can do a lot more than just freshen your breath.it can also reduce the amount of bacterial acid in the mouth and clean areas in and around the gums that are hard to brush. Get in the habit of rinsing with mouthwash after you brush and floss.
9. Visit Your Dentist Every 6 Months
At regular checkups, your dentist can diagnose problems before they require extensive treatment. they can also clean areas of your teeth and gums that you can't reach by yourself.
By implementing these 9 habits, you can dramatically improve your oral health. Your future self will thank you for avoiding future dental problems. For more advice on better oral health care habits, contact your dentist today.
About the Author
Dr. Jacob Milner is passionate about providing expert-level dental care to patients of all ages. He has acquired a wide range of skills including teeth whitening, preventive dentistry, and root canal treatments. Dolfield Dental uses the latest dental technology to provide quality care to patients in the Owings Mills, MD area. To learn more about proper oral hygiene habits, click here or call Dr. Milner at (410)-902-4110.
No Comments »
No comments yet.
RSS feed for comments on this post. TrackBack URL
Leave a comment