August 30, 2019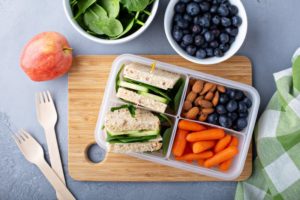 Even if your child brushes and flosses every day, they can never have too good of dental health. Paired with regular checkups and cleanings from their children's dentist and a nutritious diet, you can help your child avoid common oral health problems like cavities and tooth infections. There are certain foods that you can sneak into your little one's lunchbox to help improve their dental health and keep their teeth and gums in tip-top shape. Read on for five suggestions to include in their diet to amp up their oral wellbeing.
An Apple a Day…
You've heard the phrase "an apple a day keeps the doctor away," but never considered that it also applies to your family dentist too. Apples are a fibrous fruit that is a great addition to your little one's lunchbox. It offers vitamins that improve their overall health, and the process of chewing them can help scrub their teeth clear of plaque and debris, reducing their risk of developing cavities. Some other great fibrous and crunchy snacks to include are celery and carrot sticks.
Don't Leaf Out the Spinach
Leafy green vegetables like spinach are packed full of iron and antioxidants. It's also an excellent source of vitamins K, A, and C, which are important in maintaining bone health. In fact, the beta-carotene in spinach helps fortify your child's tooth enamel to keep their mouth healthy and happy. With a laundry list of benefits to offer, you'll be looking for every chance you can get to sneak spinach into their lunchbox.
Salmon Will Have Them Slammin' Their Oral Health Goals
Salmon and other fish are high in Omega-3 fatty acids that are known to be great for heart health. What you may not have known is that they're also high in vitamin D, which is a key player in strengthening jawbones as well.
Don't Ixnay Oranges Just Because They're a Citrus
You've probably heard about how bad citrus fruits can be for your teeth. However, when oranges aren't consumed in excess, they are a great source of vitamin C. When children don't get enough of this, it can impact their gum health and result in swelling, bleeding, and irritation. So, every now and then, an orange won't hurt.
Getting Critical Calcium From Low-Fat Yogurt
Making sure that your little one gets enough calcium is vital to keeping their teeth healthy. Adding a low-fat yogurt to their diet is a great way to be sure of this. Plus, you can include some berries in it for added nutritional value and to make it more appealing to eat.
Adding these snacks to your child's lunchbox can be a great way to improve their oral health. Remember that it's also important to make sure your little one is remembering to brush twice each day for two minutes and flossing every day as well. Along with regular checkups and cleanings, your son or daughter's mouth will be in fantastic shape!
About the Author
Dr. Jacob Milner enjoys providing patients of all ages with the dental care and knowledge they need to maintain beautiful, happy, and healthy smiles as adults. He has completed an internship at Kernan Hospital and also worked with geriatric patients at Levindale Hospital, allowing him to sharpen his skills in a wide range of skills and services. As a parent himself, he understands how important it is for children to receive reliable treatments that set them up for a healthy future. For questions or to schedule routine checkups and cleanings for your family, visit Dolfield Dental's website or call 410-902-4110.
No Comments »
No comments yet.
RSS feed for comments on this post. TrackBack URL
Leave a comment