September 20, 2019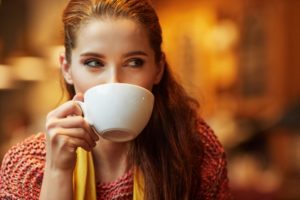 Now that summer is coming to an end and the fall season is here, there's no better time than now to curl up on the couch with family members and enjoy a hot cup of your favorite seasonal beverage. However, just because it's cooler outside doesn't mean that your smile is off the hook when exposed to hot beverages. If you enjoy a hot cup of coffee or any hot drink for that matter, you're going to want to read this first. Afterwards, you'll understand the risks that hot drinks can have for your smile and what you can do to practice smart prevention.
How Hot Beverages Stain Teeth
Coffee and certain types of tea contain tannins, which are substances that are richly pigmentated in nature. Since these beverages are hot, they can easily soften tooth enamel and make it easier for liquids to seep into enamel over time. This results in not just a staining of your teeth, but a very slight erosion of your enamel. Keep in mind that once these stains settle on teeth, it can be very difficult to remove them. This is why dentists often recommend that you brush your teeth after consuming beverages that stain teeth. Of course, you should not do it immediately following your consumption of these beverages because brushing softened enamel can do more harm than you'd initially expect.
If you want to reduce your risk of staining, opt for other beverages like green or herbal tea. These options are less likely to stain because they contain fewer tannins that are richly pigmentated in nature.
A Higher Risk for Tooth Decay
While it is true that coffee on its own does not increase the risk of gum disease, but that all goes out the window when you add sugar to the mix. Coffee on its own has antioxidants that can be beneficial to your oral health. However, when you combine the stickiness of coffee with the damaging effects of sugar, it can accelerate the effects of tooth decay. The best way to combat this issue is to pay very close attention to the beverages you are consuming and opt for sugar-free alternatives however possible. In the case of hot chocolate, the negative affects are even more substantial.
What You Can Do Moving Forward
By taking note of the following tips, you can avoid the most harmful effects of hot beverages for your teeth.
Use a straw to help beverages bypass teeth. For example, if you drink iced coffee, it helps to use a straw provided by the place you bought the beverage from or a reusable straw you'd bring from home.
Keep plain drinking water nearby as you drink your hot beverage. This works to wash away loose stains from teeth, prevent them from settling into your enamel, and keep your mouth hydrated, which makes it more difficult for harmful bacteria to develop cavities.
Move away from richly-colored beverages altogether if possible.
Have your teeth become stained as a result of drinking too many hot beverages? Visit a dentist today to get your teeth cleaned and whitened via preventive and cosmetic dental treatments!
About Dolfield Dental
At Dolfield Dental, our goal is to help patients maintain a healthy smile that they feel confident showing off. That includes providing treatments that keep their oral health in check, but it also means teaching patients the best tips to maintain proper oral health outside of the office. To learn more about the practice or treatments that can help improve your smile's appearance and health, you can contact them through their website.
No Comments »
No comments yet.
RSS feed for comments on this post. TrackBack URL
Leave a comment