November 15, 2019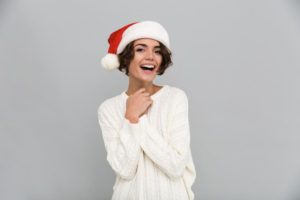 During the holiday season, we tend to consume foods and drinks with a lot more sugar than normal. While this may be a delicious way to spend a couple of months, it's certainly not the best option for your pearly whites. Luckily, a dentist is here with 5 tips to keep your mouth healthy this holiday season.
1. Don't Open Gifts with Your Teeth
Your teeth were made for eating only, not trying to undo your grandmother's expert gift wrapping job. Although it may look cool opening a present with your mouth, it's certainly does not look cool when you chip or break a tooth or injure your jaw doing something you shouldn't. If you're having trouble opening a gift, ask someone else for help instead – and make sure they use their hands!
2. Use a Nutcracker
In the same vein, if you need to shell nuts, use a nutcracker, not your teeth. Your pearly whites were not designed for that purpose. You could risk breaking your teeth, and no one want to deal with a dental emergency over the holidays.
3. Practice Smart Snacking
It may be tempting to lay out a bowl of candies or sweets to munch on throughout the day. However, this constant snacking subjects your pearly whites to an onslaught of sugar. You'll then have a higher risk of tooth decay, and no one wants to make an extra visit to their dentist during the holidays to get a cavity filled. One way to solve this problem is to consume a single dessert and brush your teeth immediately afterwards. Your teeth won't be exposed to nearly as much sugar and bacteria.
4. Stick to a Routine
The holidays are a busy time of year for just about everyone, but that doesn't give you an excuse to let your oral health habits slide. You should still make the time to brush and floss twice a day. If possible, stash a mini toothbrush, tube of toothpaste, and container of floss in your purse or briefcase to freshen up after meals. If you can't, then pack some sugar-free gum and chew it after a meal. This stimulates saliva production, which helps rinse out food debris and bacteria.
5. Use Mouth-Healthy Stocking Stuffers
According to the National Confectioners Association, 77% of people include candy in their holiday gifts. If you're going to give out candy, consider chocolate. It washes off the teeth much more easily than sticker candies like gummies, decreasing the risk for tooth decay. And, if you can, it never hurts to stuff a stocking with travel-size toothpastes, toothbrushes, and dental floss!
As the holiday season draws near, be sure to keep these tips in your mind. Your teeth will thank you later!
About the Author
After attaining his Doctor of Dental Surgery degree, Dr. Jacob Milner interned at Kernan Hospital, where his focus was pediatric dentistry. Following that, he worked with geriatric patients at Levindale Hospital. Because of these experiences, Dr. Milner learned that he loves treating smiles of all ages at Dolfield Dental in Owings Mills, MD. To learn more about taking care of your smile this holiday season, schedule an appointment with Dr. Milner by clicking here or calling (410) 902-4110.
No Comments »
No comments yet.
RSS feed for comments on this post. TrackBack URL
Leave a comment