December 21, 2019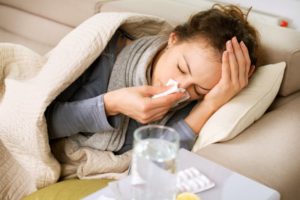 While cold and flu season is here, you're likely to go through multiple sleepless nights and struggle with a bad cough as you work to recover. There are many flu season tips to consider, but these very same ideas could be harming your oral health if you aren't careful. If you do get sick, here's what you should keep in mind to combat these issues with your sickness without increasing your risk for cavities.
Decongestants Can Cause Dry Mouth
If you're using a decongestant to relieve a stuffy nose, you should also know that using it too much can cause your mouth to dry out. Dry mouth is a leading cause of bacterial growth, and that can easily turn into tooth decay and gum disease.
This doesn't mean you will have to stop using your decongestant altogether. Instead, it's recommended that you drink lots of water when you have a cold or the flu so that your mouth stays lubricated.
Are Your Cough Drops Sugar-Free?
If you've used cough drops and lozenges in the past, you know that they are designed to dissolve slowly over time. As you do this, the ingredients in the cough drop settle and collect all around your mouth, teeth, and gums. While these products are largely used for medicinal reasons, they also contain ingredients designed to improve flavor. What's the best way to make a medicinal product taste better? Add sugar of course!
Long-term exposure to sugar means a much higher chance for tooth decay. Always opt for sugar-free cough drops and lozenges when you can.
What's In Your Cough Syrup?
When it comes to liquid forms of cough medicine, there's no exception when it comes to the amount of sugar that's potentially in these products. Some can even contain alcohol, which makes your mouth incredibly dry on top of the sugar. The less saliva you have, the more difficult it is for your mouth to remain free of harmful bacteria and plaque.
Instead of relying on liquid cough syrup, opt for gel-caps instead. If these aren't available, take your cough medicine directly before a meal. Eating meals keeps your saliva production high. You can also brush your teeth after having your cough syrup to prevent the sugar from settling.
Hot Tea, Orange Juice, and Tooth Enamel
While hot tea can soothe your throat, it can also contribute to dental erosion. Black tea in particular is quite corrosive, and adding sugar or honey can make it even worse. The best way to avoid these harmful side effects is by drinking them through a straw. Make sure to brush your teeth afterwards as well to remove the tea from the surface of your teeth.
The same issues is present for orange juice. While it's high in vitamin C, which is good when you're sick, its acidic nature can also soften enamel. If you do drink it, make sure to only do so before a meal. Choose an orange juice that's fortified with calcium as well to provide a healthy balance.
When you know the right tips for managing oral health and the cold or flu, you don't have to sacrifice one for the other. When you've gotten better, make sure to replace your tooth brush and schedule a dental exam and cleaning to make sure no issues developed while you were recovering!
About the Author
Dr. Jacob Milner takes overall health just as seriously as he does oral health. During your exam, he'll make sure that your teeth, gums and many other oral structures are in good condition. If you have other questions about practicing oral health while getting over a bad cold or flu, or you need to schedule your next appointment, you can contact him through his website.
No Comments »
No comments yet.
RSS feed for comments on this post. TrackBack URL
Leave a comment