March 3, 2020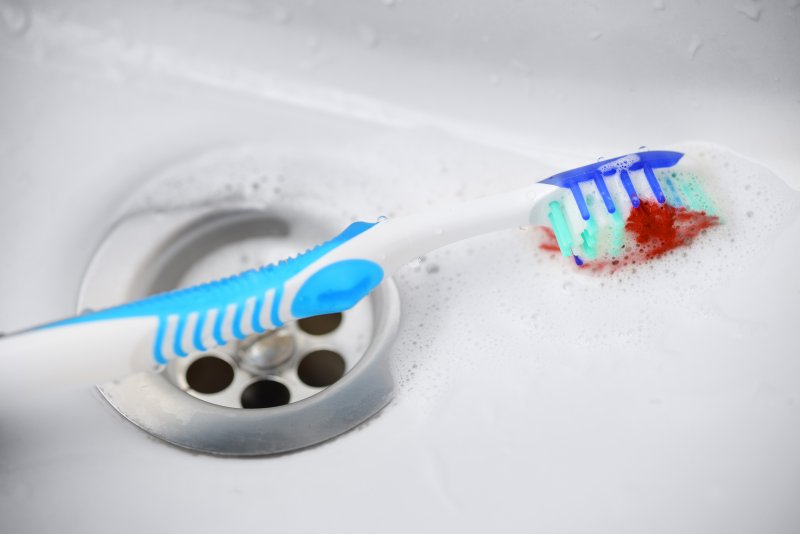 Gum disease is a common, yet, harmful condition that attacks the soft oral tissue surrounding your teeth. As this happens, your gums may become red, inflamed, and even bleed, especially when trying to brush or floss your teeth. With millions of Americans suffering from some type of gum disease, it is no surprise that dentists are offering periodontal therapy as a way to combat the issue and prevent worsening problems. Learn why it is that your gums are bleeding and what your dentist suggests you can do to take back control of your oral health.
What Causes Gums to Bleed?
Unfortunately, there is not one single reason why you have bleeding gums. There are, in fact, several causes, some of which include:
Pregnancy: When pregnant, your hormones are constantly changing, making you much more likely to develop gingivitis. Inflamed gums are normal during this time, but it's also a reason to be diligent about your oral hygiene routine and maintaining your six-month dental appointments.
Hard Brushing: It is possible to make your gums bleed simply by brushing too hard. Using a soft-bristled brush and minimal pressure is all you need to thoroughly remove bacteria and food particles.
Diabetes: Health conditions like diabetes or an autoimmune disorder can cause your immune system to weaken. As a result, you are more susceptible to gum disease.
Flossing: If you're just starting to incorporate flossing into your normal routine, don't be surprised if your gums begin to bleed. Over time, this will cease, however, don't underestimate the importance of adding this beneficial task to your oral hygiene routine.
Periodontitis: If gingivitis has gone untreated, you may notice that your teeth appear to feel looser and your gums are more inflamed and bleed more easily. This stage is known as periodontitis, which is when the infection reaches the bone. Only with periodontal therapy will you be able to halt the progression of the infection and attempt to restore your gum health.
What Can You Do to Improve Your Oral Health?
If you are already suffering from gum disease, make sure to speak to your dentist about the benefits of periodontal therapy. However, if you want to avoid spending your time, money, and energy on frequent dental visits to undergo what is known as scaling and root planing, here are some things you can do at home to keep your gum health in check:
Brush your teeth twice daily for two minutes
Use fluoride toothpaste to protect against tooth decay and strengthen tooth enamel
Floss at least once daily
Use an ADA-approved mouthwash
Clean your tongue with a tongue scraper or toothbrush to reduce halitosis
Quit smoking
Eat a well-balanced, nutrient-rich diet
Limit your sugar and starch intake to prevent bacterial growth
Avoid chewing on hard, crunchy items, especially inanimate objects (i.e. pens, pencils)
Taking the appropriate steps to prevent gum disease will allow you to live life with a beautiful, healthy smile. If you suspect you may have early signs of this common condition, don't be afraid to talk to your dentist. If caught early enough, you and your dentist can work together to reverse the symptoms.
About the Author
Dr. Jacob Milner discovered his true passion for dentistry while working as an associate dentist in Hanover. Also, he found that working with patients of all ages brought him much happiness and joy. At Dolfield Dental, he and his team of experts offer a variety of prevention-based services designed to catch damage and decay in the early stages, as well as help to avoid these problems in the first place. For questions about our services, visit our website or call (410) 902-4110.
No Comments »
No comments yet.
RSS feed for comments on this post. TrackBack URL
Leave a comment