March 19, 2020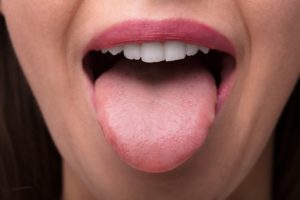 You're diligent about brushing and flossing every single day, sometimes even several times a day. Yet, on your last date, your partner turned away from you when you tried to kiss them because your breath was atrocious. You didn't eat anything foul-smelling, so why did this happen? According to a dentist, if you don't clean your tongue, you can still be susceptible to bad breath despite daily brushing and flossing. That's why we've written this guide on how and why you need to clean your tongue.
Why Do You Need to Clean Your Tongue?
Your tongue is covered in tiny bumps called papillae. Food particles can get trapped within these bumps and attract bacteria, which can build up on your tongue just as easily as it can on your teeth and gums. When this occurs, it can result in serious bad breath, even if you brush and floss diligently. Bacteria accumulation may also result in a (usually white) discoloration of the tongue. Additionally, bacteria from the tongue can redeposit onto the teeth and gums, increasing your risk of tooth decay and gum disease.
How Do You Properly Clean Your Tongue?
There are two tools you can use to clean your tongue: your toothbrush or a tongue scraper, which you can find for cheap in the dental section of most drugstores. It's most effective to clean your tongue after brushing but before rinsing so that there is still some toothpaste residue in your mouth. Then scrub your tongue with your brush before rinsing to reap the benefit of a full-mouth cleaning.
For a more direct clean, you can run a tongue scraper from the back of your tongue to the front. Rinse the scraper off after every use until your whole tongue is scrubbed clean.
What If It Makes Me Gag?
For many people, placing a toothbrush or tongue scraper near the back of the tongue can trigger the gag reflex. In order to stop this, it may help to begin by placing the scraper or brush in the middle of the tongue the first few times you clean it. Then, as you become more comfortable with the practice, you can gradually put it farther and farther back in the mouth until you can clean your entire tongue.
By adding tongue cleaning to your oral hygiene routine, you can not only improve your breath, but your oral health in general too.
About the Author
Dr. Jacob Milner is a dentist in Ownings Mills, MD. He underwent a pediatric practice residency at Kernan Hospital at the University of Maryland and worked with geriatric patients at Levindale Hospital. These experiences taught him that oral hygiene is important at any age, and that includes cleaning your tongue. To learn more, visit Dr. Milner's website.
No Comments »
No comments yet.
RSS feed for comments on this post. TrackBack URL
Leave a comment