January 10, 2019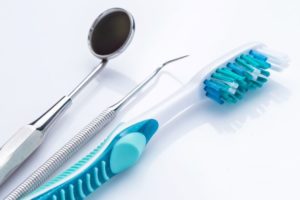 The holidays are a time for merriment. But making merry may be the last thing on your mind when you're struck with a painful toothache. You can reduce the chance you'll need an emergency dentist by eating sensibly, brushing daily, and taking tooth care supplies with you when you travel.
Taking Your Tooth Care Kit on a Trip
Just because you're traveling doesn't mean you should neglect your teeth. Here are three items that belong in any well-packed suitcase:
A travel-sized tube of toothpaste. You'll find these at most pharmacies and retail outlets. Try to pick the same brand you use at home.
An extra toothbrush. Toothbrushes can go through quite a bit of jostling during even a brief trip. That's aside from the risk of losing or misplacing your regular brush. Buying a spare brush just for the trip is a smart precaution.
Dental floss. Brushing is only part of the healthy teeth equation. Flossing is important as well. Plus, floss string takes up remarkably little room in a set of luggage.
Staying Smart When It Comes to Snacking
What would life be without those indulgences that we all crave? A slice of cherry cheesecake, a scoop of ice cream, or a freshly baked cookie can make life seems so much sweeter. But these temptations can leave us with a painful toothache unless we follow these snack-smart tips:
Remember that sticky is icky. Treats that stick to your teeth can lead to cavities. Take a pass on the gooey stuff and choose healthier options instead.
Enjoy your dessert with the rest of your meal. There is no law that says you must save the best part of dinner for the last. Enjoying your rhubarb pie at the same time as your roast beef will minimize its effect on your teeth and gums.
Sample a wide variety of delicacies. There are plenty of tooth-friendly snack foods to enjoy. Cheese, meats, and gourmet breads are three examples. Broadening your palate may help you discover a new favorite dish.
Getting Back to the Basics
Achieving success in any endeavor requires mastering the fundamentals – a fact that famous coach Vince Lombardi knew well. The lessons that he applied to football are just as important for taking care of your teeth.
When it comes to preventing toothaches, remember the basics: brush at least twice a day, floss at least once a day, and eat a well-rounded diet. Practicing these principles will put you on a lifelong path towards vibrant dental health. Ignoring them will set you up for disaster sooner or later.
The holiday season is all about giving gifts. This year, why not give yourself the gift of healthier teeth and gums by following the dentist-approved tips in this post? That's the perfect way to set the stage for a wonderful 2019.
About the Author
Dr. Mark Horner has been practicing dentistry for more than 20 years. A 1987 graduate of the University of Maryland Dental School, he keeps his skills up to date through continuous training and education. You can reach his office online or by calling (410) 902-4110.
No Comments »
No comments yet.
RSS feed for comments on this post.
Leave a comment